139
Miami-Dade County
Online Divorce Service
100% Service Satisfaction Guaranteed
How It Works
To file for divorce without fuss and stress, follow 3 easy steps.
Complete the Online Survey
Provide us with the necessary information regarding your marriage and divorce simply by answering the questions.
Check completed forms
Receive completed forms backed by our 100% satisfaction guarantee and a step-by-step guide with further instructions.
File Papers with the Court
Submit your divorce forms to the court in any convenient way available to you. Notify your spouse about the divorce.
Valid Grounds for Divorce in Miami-Dade County
According to the 2019 Center for Disease Control statistics, Florida's divorce rate is 3.5 per 1000 residents. Although it is significantly lower than in 1990 (6.3 per 1000 residents), Florida still has the sixth-highest divorce rate in the US.
The Florida State Family Law governs Miami-Dade County. In this county, the court allows spouses to file for divorce without indicating either party's fault. Instead, spouses can simply state that their marriage is irretrievably broken. This is called a no-fault divorce.
Additionally, one of the sides can file for divorce based on the other side's mental incapacity. However, the incapacity must have been declared during the last 3 years. Moreover, such a statement must be confirmed by medical or psychiatric evidence.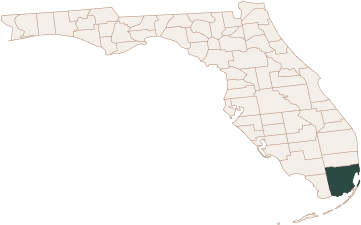 Miami-Dade
County
We have been featured in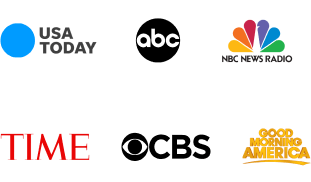 Why MiamiDadeCountyDivorceOnline Is Your Best Option
Preparing uncontested divorce paperwork has never been easier, faster, and more affordable than it is with MiamiDadeCountyDivorceOnline.com! For just $139, our platform will generate ready-to-sign forms that will suit your particular situation and provide you with clear instructions on filing your documents in Miami-Dade county. With 9+ years of experience in generating divorce filings, MiamiDadeCountyDivorceOnline.com has gained the trust of thousands of couples and become one of the market leaders. Some perks of using this tool include:
Satisfaction Guarantee
We stand by the quality of our services
Filing Guide
A detailed guide on filing with the court without an attorney
Easy Editing
Checking answers and correcting mistakes at any convenient time
Required Forms
A complete package of papers for your case
Fast Delivery
Ready-made legal forms within 2 business days in your mailbox
Cost Effective
Saving money and time on meetings with a lawyer
Affordable Process
Forms preparation without leaving home
Customer Care
Professional customer support
Get completed divorce forms in just two business days, ready to sign and file with the court!
Start Now
Benefits of Our Service
At Miami-Dade County Divorce Online we:
100%
satisfaction guarantee

What Clients Say About Us


"Once my wife and I decided to get divorced, we searched for online tools to prepare our paperwork. I found Miamidadecountydivorceonline.com, and after reading a couple of positive reviews, I decided to give it a try. It was the right choice. I got my papers completed in 2 days, and the platform provided me with clear instructions on how to submit my documents to the court. Thanks to this guide, I had no problems filing for divorce."


"I was looking for a way to fill out my divorce forms without wasting my time. Since I have a busy schedule, I can't spend three hours every day visiting lawyers. What's more, my divorce was uncontested, so I didn't need them. Miamidadecountydivorceonline.com helped me complete my paperwork online. I just answered a questionnaire during my lunch break at my office, and the platform generated my forms. That's it!"


"Miamidadecountydivorceonline.com is a cost-effective solution. At least, it was for my wife and me during our uncontested divorce. For an affordable price, it generated divorce forms that I only needed to sign. It also sent me a complete guide on finalizing the process in court. It has transparent pricing and no hidden fees, unlike other similar tools. Now I know that getting low-cost divorce paperwork is possible!"

Thelma J.
Bay Harbor Islands

"Using Miamidadecountydivorceonline.com was a real pleasure. Nice and intuitive design, links to relevant laws, clear explanations. It allowed me to edit my questionnaire answers as much as I wanted before submitting it, which helped a lot because my husband and I changed our minds regarding some property issues."


"I heard that some people wasted a fortune to end their marriages, but I didn't. My divorce included just two expenses: Miamidadecountydivorceonline.com's services and filing fees. I managed to negotiate all the marital issues and come to a common solution with my spouse to qualify for an uncontested divorce and finalize everything without hiring a lawyer. Then I used Miamidadecountydivorceonline.com to generate my divorce forms and filed them following the instructions provided. So, thank you for saving my money!"


"Miamidadecountydivorceonline.com says they provide 100% court-approved forms for Miami-Dade county, and they don't lie. I answered the uncontested divorce questionnaire and got my completed papers in 2 days. I printed, signed, and filed them immediately. The court accepted them on the first try, and the clerk noted that all the forms were up-to-date and filled out following local requirements."
Miami-Dade County Courts Addresses
The Florida Family Court reviews divorce cases in Miami-Dade county. Spouses can file divorce forms generated via MiamiDadeCountyDivorceOnline.com with the Miami-Dade County Courthouse or District Court Clerk Offices at the following addresses:
Miami-Dade County Courthouse

73 W. Flagler Street,
Miami, FL 33130

Phone: 305-275-1155

Coral Gables District Court

3100 Ponce de Leon Blvd.,
Coral Gables, FL 33134

Joseph Caleb Center Court

5400 NW 22nd Avenue,
Suite #103,
Miami, FL 33142

Miami Beach District Court

1130 Washington Ave, Suite 200,
Miami Beach, FL 33139
South Dade Justice Center

10710 SW 211th Street, Suite #1200,
Miami, FL 33189

Hialeah District Court

11 E. 6th Street,
Hialeah, FL 33010

North Dade Justice Center

15555 Biscayne Blvd., Suite #100N.,
Miami Beach, FL 33160